February 8th, 2013 by Sean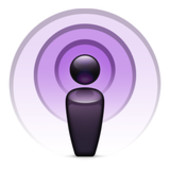 Are you struggling to understand a Scripture related to Christ's identity? Are you interested in hearing some debates? Are you looking to better inform yourself about the biblical unitarian position? Would you like something edifying to listen to in the car or while exercising? Look no further, because we now have a podcast for christianmonotheism.com, featuring over 150 teachings, lectures, explanations, and debates. Podcasts are a great way to get a bunch of audios onto your phone or tablet so you can listen to them on the go. By subscribing to our podcast you will also keep updated anytime we add new audio resources.
If you are an iPhone or iPad user, podcasts are a great way to get these audios onto your device (and you don't even have to use iTunes on your computer to get them). Here are instructions for apple products:
If you don't have it already get the podcasts app (search for "podcast" in the app store…it's a free download)
In the podcast app tap the button on the bottom called Store and search for "Christian Monotheism"
Click on this icon and select "subscribe" (this will enable the podcast to appear in your podcast library)
Now any time you want to listen to something just open the podcast app and click on the down arrow next to download the episode you want to hear
If you have a non-apple smart phone, or an mp3 player like Zune, Sony, SanDisk, Creative, etc., follow these instructions:
copy this link:
open the program you use to load music into your mp3 player and paste the link into the podcast option or paste it directly into your device if it has a podcast app
Feel free to add us to other podcast directories that you encounter. Let's get the message out about our great and glorious God!
11 Responses to "Christian Monotheism Podcast"
on 10 Feb 2013 at 3:31 pm

1

Sarah

Fantastic news! This will expand the website's outreach to a wider audience that deperately needs to hear the truth.

on 10 Feb 2013 at 5:02 pm

2

Xavier

Sean

What's with the frog? 😛

on 10 Feb 2013 at 7:57 pm

3

timothy

Xavier,

I am being serious…..what frog?

Xavier,

The frog has no real meaning. I just found it when I was doing the initial design and liked it.

on 10 Feb 2013 at 10:03 pm

5

Xavier

Sean

Looks like our state amphibian: http://en.wikipedia.org/wiki/American_green_tree_frog
:p

on 10 Feb 2013 at 11:00 pm

6

timothy

Xavier,

I am still here.

I am from Miami where the Cuban tree frog has taken over…all joking aside…and it has even made it up here to Daytona.

My beloved son has moved back from Germany after 12 years with Viacom MTV Berlin and a divorce. He has always like amphibians and since we have several acres of ponds/swamp wet lands/and wading birds….he has now several Terrarium and recently at a reptile/amphibian show we got some yellow jacket frogs from central America and two, quarter sized, genuine baby African Congo giant bull frogs.(these are non invasive because of our winter freezes) The do not get as big as the famous African Goliath jumping frog.

http://www.google.com/search?hl=en&sugexp=les%3B&gs_rn=2&gs_ri=serp&gs_mss=african+giant+bu&pq=terrarium&cp=18&gs_id=32&xhr=t&q=african+giant+bullfrog&rlz=1C1CHFX_enUS461US461&bav=on.2,or.r_gc.r_pw.r_qf.&bvm=bv.420806,d.eWU&biw=1097&bih=545&um=1&ie=UTF-8&tbm=isch&source=og&sa=N&tab=wi&ei=Ll4YUZ_NN43g8wTvrYGoBA65

I will make another friend request, to Xavier, on FB and then I can send you videos and pictures.

Timothy

on 10 Feb 2013 at 11:11 pm

7

timothy

Xavier and Sean,

Dart Frogs:

http://www.google.com/search?hl=en&sugexp=les%3B&gs_rn=2&gs_ri=serp&gs_mss=ydart+frogs&pq=yellow+jacket+dart+frogs&cp=0&gs_id=z&xhr=t&q=dart+frogs&rlz=1C1CHFX_enUS461US461&bav=on.2,or.r_gc.r_pw.r_qf.&bvm=bv.42080656,d.eWU&biw=1097&bih=545&bs=1&um=1&ie=UTF-8&tbm=isch&source=og&sa=N&tab=wi&ei=PV8YUfbOLI7a9ATh_oGQAw

Giant African Goliath frogs:

http://www.youtube.com/watch?v=LrXeD2aiSU4

Timothy

on 10 Feb 2013 at 11:57 pm

8

Ray

Choose the best answer to this spiritual question:

Spiritually, who is Jesus Christ?

a. himself.
b. God.

Or

What might we call Jesus?

a. The Word.
b. God.
c. Both of the above.

on 11 Feb 2013 at 2:12 am

9

timothy

Ray,

I cannot answer both of your questions because you have set a trap.

Question # 1

Spiritually, who is Jesus Christ?

a. himself.
b. God.

My answer is: Jesus Christ is himself, a Conceived by GOD and born to woman full dna human being. He received holy spirit when baptized by John the Baptist.

He was murdered and after three days GOD raised him from the dead into being the first, human being, with a new resurrected spiritual body.

Question # 2

What might we call Jesus?

a. The Word.
b. God.
c. Both of the above.

Only answer is "non of the above"

Because the word is my bible, the word of GOD, but not GOD himself.

GOD is not words, GOD is HOLY and GOD is SPIRIT. He is HOLY SPIRIT.

Jesus is a resurrected from the dead human being. Human beings are not words.

Timothy

on 11 Feb 2013 at 8:07 pm

10

Ray

Where the spirit of the Lord is there is liberty. We do have the liberty to compare Jesus with the Father and worship him as we do worship the Father, as long as our worship is good and sound. God is the judge of that. He will let us know where we have gone wrong in our worship. He gave us the holy spirit to be our guide.

There is an interpretation of things by the spirit that naturally minded men do not receive, whether willingly or unwillingly.

I may certainly call Jesus the Word, as John did. I may call him my God as Thomas did. I may say that spiritually Jesus is God, and it's not robbery.

on 12 Feb 2013 at 11:47 am

11

timothy

Xavier,

Bull Frogs and butterflies
Leave a Reply